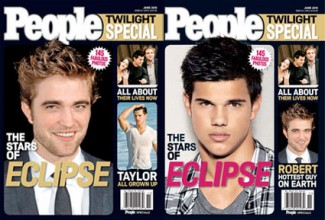 Well, this should settle the whole Team Edward vs. Team Jacob thing once and for all, right?
People has decided to release their special Twilight issue with slightly different covers, thereby forcing folks to figure out which copy they should purchase. Will they choose the one featuring a smiley Robert Pattinson or the one with a much more serious-looking Taylor Lautner? Of course, those running the mag no doubt hope such a choice will just be too difficult to deal with and Twi-hards will simply break down and buy both.
It should be noted, too, that while each got covers, on Taylor's, Rob is referred to as the "Hottest Guy on Earth," while on Rob's, Taylor gets the lackluster label of being "All Grown Up."
That's gotta sting.

Source: E Online via TwilightLexicon